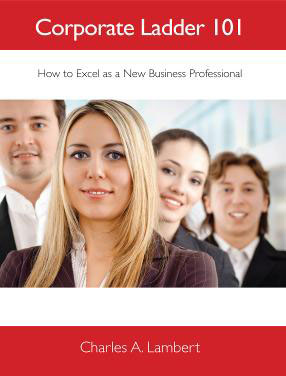 Climbing the Corporate Ladder:
This is the book that picks up on the practical side of the business world not covered in the formal education of colleges and universities.
It is a roadmap for professional and personal development and gives new professionals the tools needed to create an image and a reputation that will get them ahead and set them apart from their peers.
Corporate Ladder 101 explains the habits they need to develop and the behaviors they need to avoid, including:
How and why to clean up your e-life (social network profiles, email addresses, etc.)

The tangled issues of office grapevines, romances, politics, and happy hours

Managing your relationships with your boss and your peers

Keeping promises, maintaining a great attitude, and practicing ethical behavior

And much more practical corporate ladder advice...
Perfect Graduation Gift Idea
If you are looking for graduation gift ideas, you've come to the right place. The wisdom in Corporate Ladder 101 is one of the best college graduation gifts you can give to your son or daughter, niece or nephew, friend or colleague.
In addition to being among some of the great graduation gifts available, it should also be included in every corporation's new graduate on-boarding program.